Get the Full Outta Here
When breaking and gymnastics collide.
First, a bit of housekeeping. I just set up an email account for this newsletter. The address is unorthodoxgymnastics@gmail.com. If you've got questions about gymnastics, Judaism, my dog, anything really, please send them in. I am planning to start a mailbag column in the near future.
Also, starting next Wednesday, December 4th, I'll be charging a small fee for this newsletter, which means that most of the forthcoming ones will be for subscribers only. The "beginner's luck" price is $5/month or $50/year. Please subscribe below.
Thank you for all of your support!
---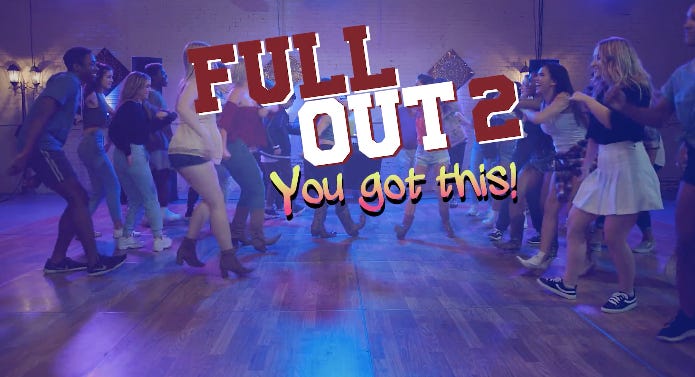 Last week, the first trailer for Full Out 2, a gymnastics movie that is set to be released in July 2020, was unleashed on the world. There's not much I can say until after you guys watch it. I'll see you on the other side.
Still with me? As you can see, this movie is about the University of Oklahoma women's gymnastics team trying to figure out a way to win after their star gymnast, Brenna Dowell, leaves to make a run at the Olympics. Dowell, who graduated at the end of last season and helped cap off Oklahoma's win at the 2019 NCAA Championships with this magnificent vault, did take a hiatus from college gymnastics to resume her elite career in the hopes of making the 2016 Olympic team. She made the 2015 world championship team but missed out on an Olympic berth.
I know that losing a gymnast of Dowell's caliber would be difficult for any team. I just didn't realize it led to a full-on crisis that only breaking and hip hop dance could solve. (Also, I don't recall Dowell's absence being treated like a calamity at the time. The Sooners were pretty stacked with talent that year. I guess this is what they call artistic license.)
As the number in the movie title indicates, this is not the first Full Out movie produced; original flavor Full Out was released in 2015 to Netflix. That one was about Ariana Berlin, a former UCLA gymnast. As a young athlete, Berlin had Olympic aspirations but her career was derailed by a serious car accident in which she sustained significant injuries, including two collapsed lungs, two broken legs, a broken collarbone and a broken wrist. After the accident, Berlin left gymnastics and turned her attention to dance, in particular, breaking. She eventually ended up performing with the San Diego dance troupe Culture Shock before she resumed her gymnastics career at UCLA. As fate would have it, she performed at Sea World in San Diego where Val Kondos Field, then the head coach of the UCLA gymnastics team, was the choreographer. Berlin told Kondos Field about the accident and the coach encouraged her to get back into gymnastics, offering her a walk-on spot on the UCLA squad.
As a walk-on and then later as a scholarship athlete, she performed floor routines that included music and moves taken from breaking. Two of her floor routines ended with chair freezes. She also performed to classic breakbeats. (The funky part starts around :35)
The Full Out movie, more or less, follows this narrative arc; it's the classic "girls meets gymnastics, girl gets in car accident and can no longer do gymnastics, girl learns how to break, and then girl gets a college scholarship" story.
The movie was cheesy as all get out and poorly written and acted to boot, but if you went in thinking that it would be anything other than absolutely ridiculous then I've got a bridge to sell to you.
"The dope mid-skill camera cuts that made it look like Ariana Berlin did a triple flyaway made me nostalgic for the actual greatest gymnastics movie of all time, though, and that movie is American Anthem, YOU HEARD ME." Rebecca Schuman, Slate's gymnastics expert, wrote to me after I forced her to watch the movie and asked her for a quote very late the other night.
No Rebecca, I couldn't hear you above the sound of me proclaiming that Stick It is the greatest gymnastics movie of all-time.
Fun fact: Full Out has another breaking connection—Jennifer Beals. Beals played UCLA head coach Valorie Kondos in Full Out but is best known as the star of the 80s film Flashdance. That film played a pivotal role in breaking's spread across the globe. Flashdance featured a 90 second scene with kids (members of the Rock Steady Crew) breaking on the sidewalk in front of a gathering crowd; that was enough to take the dance global. Soon-to-be b-boys all over the world have talked about going to see the movie in order to learn the moves that Ken Swift, Crazy Legs and Frosty Freeze were doing in the short clip. 
And Crazy Legs was one of Beals' dance doubles for the iconic final scene. (He performed the back spin.) 
Sorry about the lengthy digression; without an editor to rein me in, this kind of thing is bound to happen. I hope that won't stop you from subscribing to the newsletter.
Back to Full Out 2. I have absolutely no idea if the Oklahoma women's gymnastics team actually turned to b-boys and jams, amongst other things, in order to get an edge, but I sure do hope that this is true. And all I want for Jewish Christmas is for the the 2019 NCAA gymnastics season to feature dance battles. (Imagining that each NCAA gymnastics team is a crew, which one would win in a freestyle battle? Answer in the comments.)
Since I find it amusing to think way too hard about things that are kind of ridiculous, I asked my good friend Joe Schloss to weigh in on the trailer for Full Out 2 and this style of dance/sport movie. Joe wrote Foundation: B-boys, B-girls, and Hip Hop Culture in New York, which is one of the most important books about breaking. If you are at all interested in this art form, don't watch either Full Out—buy his book instead. (Also, Joe will be back at a later date to discuss breaking's move to the Olympics in 2024.)
Joe only watched the trailers for the movies; I couldn't bring myself to ask him to watch the first film in its entirety. So here is our short Q&A about the trailer for Full Out 2. 
Dvora Meyers: Do you hate me for making you watch that trailer? Will you still take my calls when I'm freaking out about something?
Joe Schloss: Yes but yes.
DM: Without having seen the full movie, what genre of dance film do you think Full Out 2 falls into?
JS: Honestly, I have mixed feelings about these kinds of movies. On one level, they are cheap, by-the-numbers, exploitation films, but at the same time, they often employ legitimate dancers (and, I assume, gymnasts) who may not have many other options as professionals. So even though I might laugh at the clichéd aspects of the story and dialogue, I can't really be mad at it overall, because the performers are real artists and athletes doing the best they can with what they've been handed.
DM: Why has hip hop become this narrative device by which (mostly) white upper middle class kids and young adults "discover" who they are?
JS: This is just a variation on an old Hollywood trope, where the purpose of Black characters—or Black culture—is to help the white protagonist in becoming a more fully realized human being. It's based on two assumptions: 1) That Black people are naturally more emotional and spiritual (which may seem positive on the surface, but which is actually a throwback to negative stereotypes that have been used to do real harm to people of African descent); and 2) That Black people are naturally devoted to helping white people, even when they don't have anything to gain from it. Again, this may seem positive on the surface (Black people are generous!), but it still has a deeper negative effect, because once that assumption becomes part of our general culture, it makes it look like there's something wrong with Black people who don't want to go out of their way to help white people. Which is not a burden that is placed on other groups.
DM: Which Olympic gymnast, current or retired, would make the best b-boy or b-girl?
JS: B-Boy: Kurt Thomas a/k/a B-Boy Jim Kata.
B-Girl: OG Korbut
Photo credit: Screenshot (Vimeo)