Behind The Lens With Deanna Hong
A Q&A with one of gymnastics' premiere videographers and editors
I want to start by apologizing for sending only one newsletter out last week—my old, decrepit back gave out on me and I spent several days in bed, unable to do more than move my thumbs to swipe right and left on dating apps. (Mostly left.) Thankfully, I'm much recovered since then and can now sit upright and type for long periods of time. 
When I started the newsletter, I semi-jokingly promised you guys an advice column and here's the first installment—don't age. Nothing good comes of it. (That's actionable advice, right?)
Before we get into the wholesome gymnastics content you've all been waiting for, here's my usual pitch—if you're enjoying the newsletter, please consider subscribing. It's either $6 a month or $60 a year. Thank you so much for all of your support!
---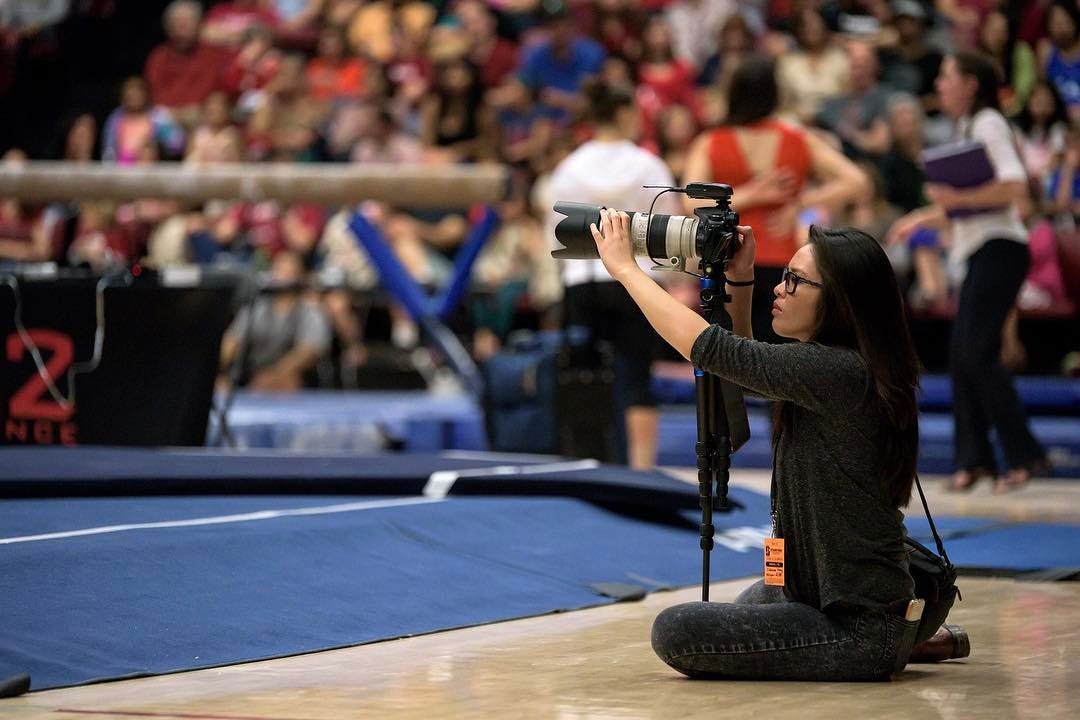 I first became aware of Deanna Hong's work in 2015 when I watched a mini documentary about Kyla Ross that Hong shot, directed, edited, and produced. At the time, Ross, a member of the 2012 gold medal winning Olympic team, was making a run at Rio. (Ross would announce her retirement from elite gymnastics in early 2016; she started UCLA in the fall of the same year. She is currently a senior and already one of the Bruin all-time greats.) What immediately struck me about this documentary was how quiet and unfussy it was. After a lifetime spent watching overwrought NBC puff pieces, it was refreshing to see a documentary that respected its gymnast subject without sensationalizing her life and story. Also, it was clear that whoever was behind it—doing the shooting, asking the questions, editing it together—was interested in the sport. Ross and her coach Jenny Zhang spoke about gymnastics, upgrades, and conditioning—not the usual things you see focused on in mainstream produced pieces about gymnastics. Hong followed it up with mini docs about trampoline Olympic hopeful Charlotte Drury and 2012 Olympic gold medalist Jordyn Wieber; both of these documentaries were just as unfussy and engaging as the one she did about Ross. 
Hong, an Emmy award winner for her work with NBC Olympics during the 2016 Games, has served as the videographer for the UCLA women's gymnastics team since 2014. (Here's the Hong produced UCLA 2020 intro video that you'll see if you make it over to Pauley Pavilion for one of the Bruins' home meets.) If you were alive in the year 2019, you probably watched a bit of Hong's work—she shot the mega viral video of Katelyn Ohashi performing on floor exercise. You know, this one. 
Since most people's contact with gymnastics comes through the media, it's vital that those who create the images and videos respect the discipline and the athletes who participate in it. Hong, though she didn't know a lot about gymnastics when she first began documenting the sport, has proven to be a thoughtful and creative chronicler of this weird and wonderful sport, ably showcasing the beauty and power of the gymnasts' movements while also giving us a bit of their personalities. As I've discussed in previous newsletters—such as this one and this one—though gymnastics fans have been poorly served by the mainstream media for a long time, over the past decade we've been very well served by independent coverage.
I consider Hong to be part of the cohort that has been improving the coverage of women's gymnastics (and women's sports in general) so I reached out to her with a few questions about her work. Below is our email Q&A exchange, which has been lightly edited for clarity.
---
Dvora Meyers: How did you come to work with UCLA Gymnastics in 2014?
Deanna Hong: I was a video production intern for the UCLA Athletics department during my senior year at UCLA. I continued working with the department in a volunteer capacity after graduating, and was assigned to produce a video about the making of Ariana Berlin's movie, "Full Out." Over the course of making that video, I met Miss Val, who apparently saw something in me and asked if I wanted to become the team videographer. It sounded like a fun thing to do for my first year out of college... yet here I am, still here six years later!
DM: Before starting to work with the team did you have any experience shooting gymnastics in particular and sports in general?
DH: No, I didn't have any prior experience shooting gymnastics. In high school, I would shoot and make banquet videos for my lacrosse team every year and I did an internship doing video production for a local ballet company. I also took a multimedia class for two years in high school where I really fell in love with editing, so I did have an above average amount of experience in video production, but not specifically with gymnastics.
DM: What are some unique challenges that come with shooting and editing gymnastics vs. other kinds of content?
DH: Initially the challenge with shooting gymnastics for me was that the athletes move so quickly and dynamically. I have to focus manually, so it's pretty hard to time it all right. That said, once you get used to the motion of the sport, it's actually kind of easy to shoot because it's so predictable, especially working for one team because they're performing the same routines all season, so I always know exactly where they're going. On the other hand, I tried shooting soccer a few months ago and that sport is so unpredictable to me that it was hard for me to follow the action. (I also got nailed in the face and NCAA D1 soccer players kick HARD... so I was like, "Yeah, I'm going to stick to gymnastics.")
DM: Over the years, I've heard people (fans, gymnasts) complain about photos and videos taken from unflattering or even inappropriate angles. Are there certain angles or positions you try to avoid when shooting gymnastics? How do you approach shooting the sport?
DH: Being a woman shooting women's gymnastics, I'm definitely always cognizant of shooting the athletes in a way that is respectful. I think a lot of the unflattering or distasteful gymnastics photos we see come from photographers that only shoot gymnastics on occasion (like wire photographers who get assigned to competitions without any previous experience or interest in the sport). Especially considering what this sport has been through in recent years, it's really important to me that the way I shoot gymnastics is about the art form, athleticism, and emotion—not about objectifying the athletes' bodies.
Aside from inappropriate angles, there are also angles that are still unflattering/not ideal for watching gymnastics. Sometimes I do have to decide between shooting an event in a way that is artistic vs. satisfying to a gymnastics fan; it just depends on what the purpose of the footage is. For example, gym fans generally want to the full body in frame and a side angle so that they can see form, amplitude, etc. So when I shoot podium training videos at Worlds for GymCastic, for example, I try to keep my videos pretty wide so you can see what's actually happening. But if I'm shooting a documentary or a feature, I'll try to shoot tighter shots from more unconventional angles to get a more artistic look.
DM: The first time I became aware of your work was when I watched the documentary short you made in 2015 about Kyla Ross. Since then, you've made a couple of others, including ones about Charlotte Drury and Jordyn Wieber. Can you talk a bit about the inspiration behind these mini docs and the kinds of stories you wanted to tell through them?
DH: I always watched the Olympics as a kid and have always dreamed of working the Olympics, so having the access and ability to tell those stories through the connections I made at UCLA Gymnastics was an opportunity I couldn't pass up. I asked Miss Val to introduce me to Kyla. I asked Jordyn (after working with her for two years) if she would like to make a documentary with me. And I met Charlotte at the Olympic Media Summit in 2016 and thought she was a fascinating individual; she had seen the piece I'd done with Kyla, so we kept in touch and I pitched her the idea of shooting something together.
Those docs are still some of my proudest works because looking back, I can't believe I had the guts to ask two Olympic gold medalists if they'd be willing to let me make documentaries about them. It's funny because when you're younger, you don't know what you don't know. Now that I know so much more about production and filmmaking, I actually feel way more inadequate, so I'm kind of in awe of my younger self for daring to make those documentaries. There was literally no budget for any of those, I was just young and excited and wanted to make things, so I did it. Sometimes I look back and mourn that I've lost some of that scrappiness and now feel more pressure to have all my ducks in a row before starting something, rather than just going for it.
DM:  You also made one about Rachael Denhollander. What was that shoot like? And what do you hope that viewers took from it?
DH: At the time I made my doc with Rachael, nobody outside of the gymnastics world had heard about the atrocities committed by Larry Nassar and USAG (everything would hit national news a month after I released my Rachael doc). Working in this sport and personally knowing multiple survivors of sexual abuse, I felt distraught and felt I had to do something, to take action in any possible way to help. For me, that was using my specific skill set to help amplify the voices of the survivors in order to get their stories out there and honor them for their courage in coming forward.
I reached out to Rachael by DMing her husband Jacob on Twitter, introduced myself and told him about what I hoped to achieve in making this doc. He introduced me to Rachael and within a few weeks my co-producer Allison and I flew ourselves out to Louisville to shoot the interview. Rachael is truly just as eloquent, poised, and intelligent as she seems. It was incredibly nerve-wracking to go into that interview and ask her to speak with us about such incredibly painful experiences. We prepared a lot because we desperately wanted to avoid being careless or insensitive.
I edited the video when I got back to LA and sent it to Rachael for approval before we posted it. To know that she felt I had done her story justice and showed her in a way that was honest and authentic was the most important thing to me.
The plan was to produce a series of videos with survivors, but then the story finally started getting national attention and I figured that those news platforms had the capacity to share the survivors' stories much more broadly than I could do alone, so I ended up only doing the one video with Rachael, but I'm very proud of it.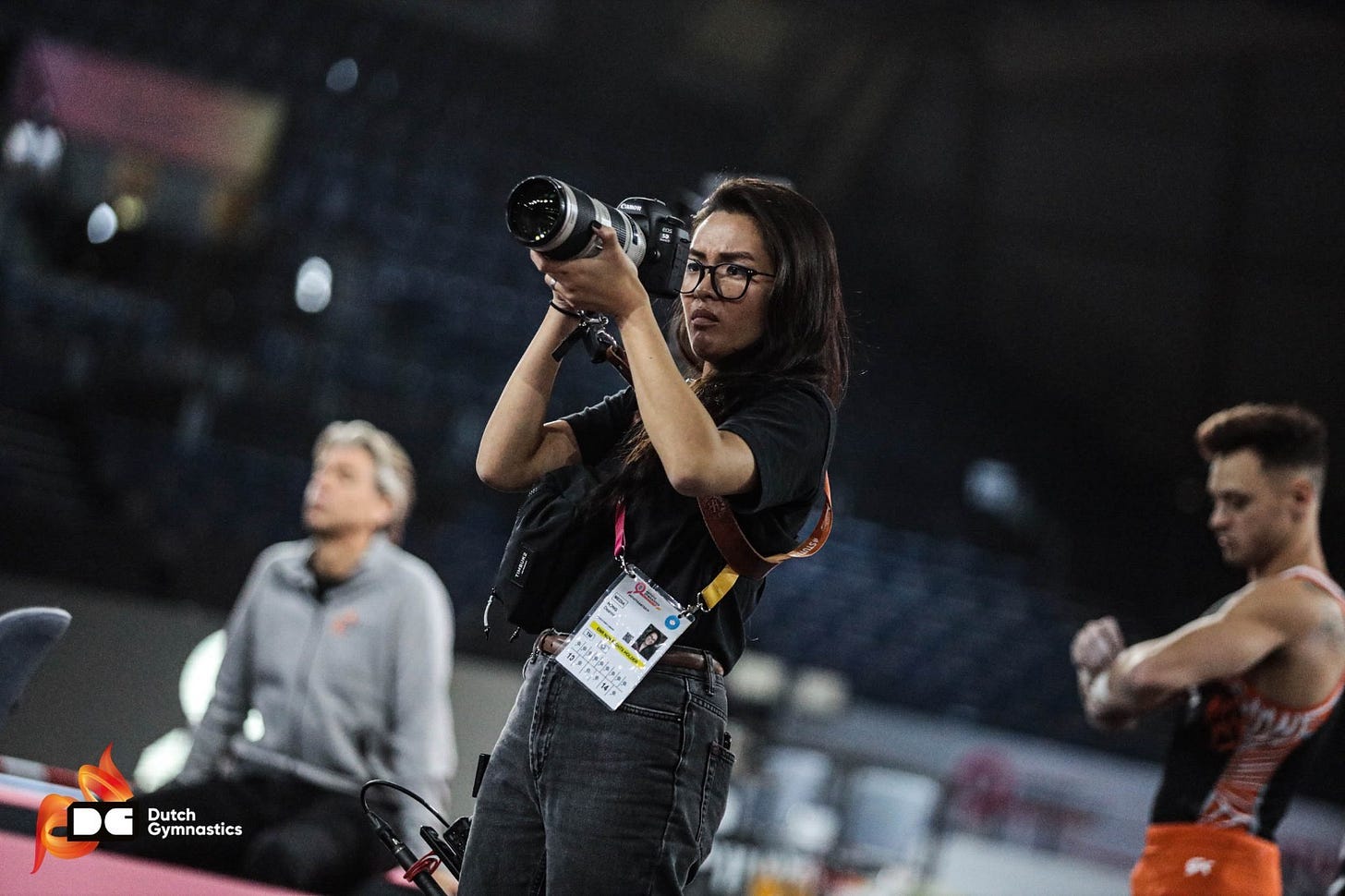 DM: Last year, Katelyn Ohashi's floor routine went viral. You shot the video because that early season meet wasn't televised. How did it feel to see your work shared all over the world by seemingly everyone, from Janet Jackson to Alexandria Ocasio-Cortez? (Personally, I would faint if Janet Jackson was even dimly aware of my work or my existence.)
DH: Yes, that was actually our only meet that wasn't televised last season, so we knew going into the meet that we would be free to post as many highlights as we wanted; usually we're limited to 1-2 minutes of highlights when meets are televised.
It's definitely cool to be able to tell people that I shot that video, because it feels like literally everybody has seen it. I really can't take very much credit for it though—Katelyn did all of the heavy lifting on that one, and I just made sure she (and all of our floor rotation, actually) was in focus and in frame because we knew it would be the only video that existed of our meet. But it was definitely surreal that something that had come out of my camera had crossed the eyes and touched the hearts of some really famous people!
DM: In general, what do you find compelling about shooting gymnastics and telling the stories of gymnasts?
DH: Gymnastics as a sport is inherently captivating. There are few who are unimpressed by watching fellow human beings perform superhuman feats. Aside from that, I've always been drawn to capturing human emotion and relationships. NCAA Gymnastics in particular provides an incredible opportunity to tell those stories. I'm much more interested in the emotion of the sport and how watching it makes people feel than the actual gymnastics itself. I'm actually a terrible gymnastics fan—I don't really know what any skills are and I understand next to nothing about the Code of Points. But I believe that showing who these athletes are as human beings with their emotions, struggles, triumphs, and personalities is what makes people fall in love with them and become fans. To me, my job is to show the viewer why they should care about these athletes.
DM: I know your work includes more than just gymnastics. Can you talk about the work you've done for FOX, in particular the coverage of the Women's World Cup? Storytelling-wise, are there different things you look for, say, in editing soccer vs. gymnastics?
DH: Many people don't realize that I'm actually not on staff at UCLA and never have been. I'm a freelancer and work for many different clients. UCLA Gymnastics is my main one, but I have also done a lot of work for FOX Sports, NFL Network, and in the music industry.
At FOX, I've worked as an editor on the 2018 and 2019 FIFA World Cups, which was an amazing opportunity for me to learn how things are done at a big network. For both World Cups, I was working remotely from the FOX lot in LA (so I didn't get to go to Russia or France, unfortunately), but I got to do some really cool storytelling with the most beautiful footage I've ever worked with.
As I mentioned before, I am really drawn to the pure emotion and human element of sport. Like gymnastics, I also [started] barely know anything about soccer (to be honest, I don't actually know that much about any sport, which I know is the ultimate irony). I loved working on the World Cup; there's just a whole different level of emotion when you're representing your country. The highs are higher and the lows are lower—that range of emotion is a goldmine for storytelling.
---
Tabs that I have open:
I'm slightly obsessed with the Medal Count, a gymnastics blog that dives into the history of the sport. I regard myself as someone who knows a lot of gymnastics but every time I click on a link on the site, I end up learning something new. This week, they published a fascinating history of women's gymnastics (and women's sports in general) in Iran. You absolutely should check it out.
Photos courtesy of Deanna Hong