The Decade That Changed The Way We Consume Gymnastics
Blogs, podcasts, and live streams, oh my!
I'm a day late and $35,000 short. (My current student debt.) Please accept my apologies.
This will be my only newsletter this week on account of the holidays and travel. I'll resume my regular posting schedule in the new year. 
In the meantime, if you like this newsletter and want to help support it, please subscribe. The "beginner's luck" price is $5/month or $50/year until the end of 2019. 
---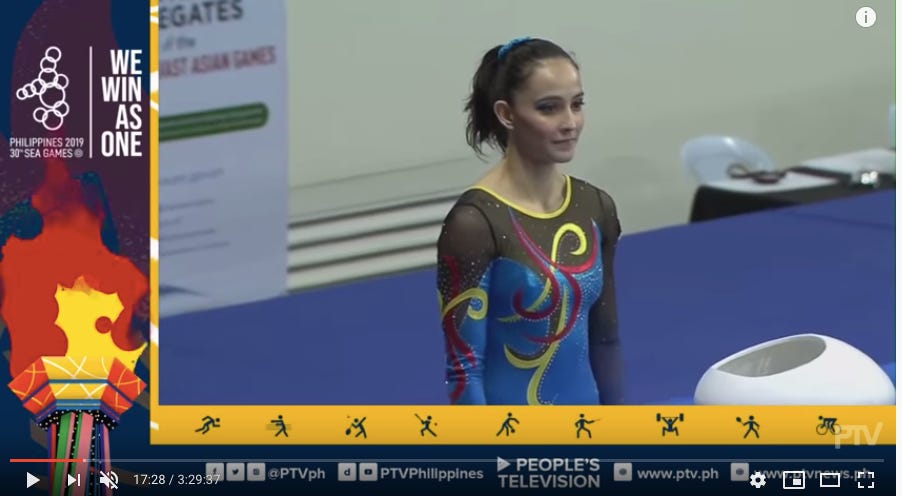 It's that time of the year when everyone is coming up with their "best of" lists—best books, best movies, best TV shows, best albums. One editor over at Longreads asked me to do this for sports writing in 2019, so naturally I chose a longform story about ice dance. This is what happens when you give me this kind of power. Anyway, you should definitely check out Genna Buck's fantastic story on Olympic gold medalist Tessa Virtue. The article gets into something I often wonder about—how do you move on from the thing you were best in the world at when you know that whatever you do next, you probably won't be the best at it.
While we're in "best of the decade" mode, I humbly submit this lift performed by Virtue and Scott Moir at the 2018 Olympics for "most face sitting-est skating lift."  That's an award category, right?
But this is not really going to be a "best of the decade" or even "best of the year" kind of newsletter because anytime someone asks me what my favorite book/album/movie, etc. is, I fly into a blind panic. I know that I've watched movies in my life. Why can't I think of one right now? I know that I've read books that I've enjoyed but why can't I recall the name of a single one? After a bit of hemming and hawing, I excuse myself to go to the bathroom where I climb out of a window and flee. 
Besides, there are others doing the "best of decade" lists/posts in gymnastics and they are doing it exceptionally well. I'm loving Blythe Lawrence's ongoing series about decade defining routines. Not only has she chosen wisely—I'm here for any list that includes Aliya Mustafina and Tatiana Nabieva—she manages to distill the significance of each of her choices down to just a few hundred words. How does one get a point across in fewer than 1,000 words without calling on the dark arts? I have no idea.
(Disclosure: Blythe joined me for part of my trip last year to Paris and translated most things for me since I am le idiot. I don't think this is influencing what I'm saying here about her work but I thought you should know.)
But even if I don't have a list, I do have some end of the decade gymnastics thoughts. Here are some of them. 
The rise of independent digital gymnastics media: Forgive me for this bit of media navel gazing. In the 90s, there were Geocities websites. (Most gymnastics gym websites still look like they're hosted on Geocities. Why?) Then came the Blogspot blogs and message boards. I participated in both of those phenomena but when it came to the latter, I was more of a lurker. And over the last ten years, we've seen the rise of independent gymnastics media that not only provides smart coverage for fans but has also pushed the mainstream coverage of the sport to become much better.
In the early part of this decade, Blythe was covering gymnastics in-depth over at Gym Examiner; she was even credentialed to cover gymnastics at the 2012 Olympics based on her work there. She now writes over at Rocker Gymnastics and freelances for assorted sites, including Team USA and espnW. She also co-wrote Fierce with Aly Raisman. It's fair to say she's had an impact beyond the confines of the gymnastics fan community. 
Lauren Hopkins started out writing over at the Couch Gymnast, but then founded the Gymternet, where she provides exhaustingly comprehensive coverage of the sport with bios for every gymnast and results posted from every competition around the world. Lauren somehow works a full-time job on top of all of the work she puts into her site. I marvel at her time management skills and energy level. I can barely get 1-2 newsletters out every week.
Her site has become an absolutely vital resource and not just to gymnastics fans. If you find yourself in the media section at any major gymnastics event, you will occasionally see the Gymternet up on the computer screens of a few of the journalists there. (Also, she was part of the Emmy-winning team for NBC during the 2016 Olympics.) 
For college gymnastics (and gymnastics in general), Spencer Barnes at the Balance Beam Situation offers fans comprehensive coverage of the sport. Beyond the depth of his knowledge, what was revolutionary was the way he approached analyzing it—as though it is a sport like all of the others. He used the tools and thinking that are commonly used to look at sports like basketball and baseball but are rarely applied to the aesthetic sports. He spoke of stats, average scores, numbers, lineups, of scores lost from one season to the next, of strategy that goes beyond "the scores build throughout the rotation." While some of this might seem obvious to the hardcore college gymnastics fan, I can't think of anyone who did this kind of analysis in such a thorough fashion until he came along. Before Spencer, I paid scant attention to college gymnastics. I mean, I sometimes watched it because it was gymnastics, but I had only a very superficial understanding of it.
And without his approach and information, I don't think the college gymnastics fantasy draft that has grown in popularity would even be possible. (I don't participate in the fantasy draft because I am a natural obsessive and I can see myself getting way too into this. Also, I'm fundamentally lazy and this seems like a lot of work.) 
And finally, we cannot forget the hilarity. And GIFs. Spencer's use of GIFs in storytelling has risen to the level of art. For that alone, he deserves a Pulitzer.
A more recent addition to the gymternet is Gymnovosti, a site edited by Luba Baladzhaeva. Hers was a simple but important idea—what if we start regularly translating articles about gymnastics that are published in Russian? While Russia might not be the kind of gymnastics power the Soviet Union was during its heyday, it's still one of the most important countries involved the sport. Getting timely translations of stories that appear in Russian media is critical to our general knowledge and understanding of gymnastics. Elizabeth Booth at Rewriting Russian Gymnastics provided a platform for this kind of work for years—who can forget the epic Alexander Alexandrov interview with his daughter in late 2012/early 2013—but Luba has taken this work to a new level, in part, because she translates and posts on a regular basis. Luba's translations have been critical for me in my work—I used many of them as the basis for blogs I wrote while I was at Deadspin, especially the ones about Svetlana Khorkina's general batshittery. And Luba's translations have broken stories that might not have otherwise made their way to the West. Remember that time Russian gymnast Angelina Melnikova posted a photo of herself wearing a shirt that said, "Everybody should be a feminist" and the Russian Olympic Committee felt the need to reassuringly tweet, "Maybe she's a feminist, but at the same time she's beautiful and talented"? That story ended up being covered by almost every outlet. The source for all of this—Luba's translation of the ROC's dumb tweet. There are many other examples of Luba's work hopping over to the mainstream media, too many to list here.
And Luba's work goes beyond translation of Russian articles; in her posts, she also takes the time to contextualize the stories she translates, explaining Russian beliefs and culture so we can better appreciate what the athletes or coaches are saying.
(Disclosure: I am Luba's friend, etc.)
And of course, there are the podcasts starting with GymCastic, which launched in 2012 shortly after the Olympics. Up until GymCastic, fans could only hope for short soundbites from athletes and coaches. These usually didn't give you much in the way of information and weren't particularly insightful. This wasn't the fault of the gymnasts; mixed zones are very unnatural settings and don't lend themselves to interesting conversation. I tend not to ask a lot of questions in mixed zones for this very reason. What GymCastic and creator/host Jessica O'Beirne did was the give athletes, coaches the space to breathe and think and talk. And we all got to listen. 
(Disclosure: I was a co-host on some of the early episodes of GymCastic and have appeared on the podcast several times as a guest.) 
The gymnastics fans who have created this independent media did it mostly for themselves and other fans but they've clearly had an influence on the general reporting about the sport. As I noted earlier, stories covered on the blogs and podcasts have found their way into the mainstream. One reporter once told me that the proliferation of quality independent gymnastics websites and resources over the last several years has forced the more mainstream sports writers to up their game and get better at covering gymnastics. You simply cannot get away with writing the same bland, uninformed copy that you were once able to publish about the sport. I mean, you can and there are still those that will write stupid crap about gymnastics, but if you're a reporter who actually wants to do a good job—which most of them do—you can't put out "balance beam is four inches wide/twists and flips" drivel and hit "publish" when you know there is good information out there. Also, you'll probably get called out on Twitter for the dumb things you write. 
Live streaming gymnastics: I am an old so I remember a time when qualifications or podium training was something you read about in an article (if you were lucky to get even that much). It wasn't something that you got to watch as it was happening unless you went to the meet in person.
But nowadays, not only are the vast majority of competitions available to be live streamed, but we are also able to watch training sessions. If only I could go back in time and tell eight year old Dvora just how much gymnastics she'd be able to watch on the internet. (Also, I'd have to explain the internet to her.) In fact, there is too much gymnastics to watch at times and sometimes I opt not to watch things, which is not something I ever thought I would do. Eight year old Dvora would be so disappointed in me but 36 year old Dvora has to walk a dog sometimes.
I got to give a shout out here to Scott Bregman, who started bringing U.S. gymnastics fans podium training live from domestic competitions and the world championships when he was working at USA Gymnastics. (He also streamed things like qualifications.) Now, when I can't watch the U.S. team's podium training from a competition, I feel like I've been personally wronged. In just a few years, watching podium training went from something you felt lucky to see to something that you expect to watch at every single meet.
The internet and live streaming has changed our expectations when it comes to watching gymnastics. We expect to see all of the competitions and we expect to see them live. No more of this tape delay bullshit. We expect that videos of performances very quickly find their way to YouTube. (To all of the uploaders out there, thank you!) And due to smart phones, we expect to see training videos too.
Between websites, podcasts, live streamed meets, and training videos, gymnastics fans have never had more access to quality media and information. We are truly living in a golden age. 
---
This newsletter is by no means comprehensive. Feel free to yell at me on Twitter or comment on this post about the people and sites I egregiously left out. I can take it.
Also, I'm aware that there were blogs pre-2010. In fact, I started my now-defunct ugly ass blog in 2007. But I do think the independent gymnastics media really took off in the last ten years, both in quality and influence.
Happy all of the holidays to all of the people! 
Screenshot: YouTube