The Gymnast, The Pianist, And The Choreographer
Part 2 of 2
I must start this newsletter by apologizing for the long lag between this part and the first part of "The Gymnast, the Pianist, and the Choreographer." Domestic events intervened and I felt that I had to write about the Black Lives Matter movement as it pertained to gymnastics first. And then, sadly, U.S. gymnastics legend Kurt Thomas passed away a couple of weeks ago, and I felt that I had to tackle to write about him right away.
Before we get to the gymnastics, I'd like to encourage you all to consider donating to any number of grassroots organizations that are supporting the Black Lives Matter movement. You can donate to bail funds all over the country by going here. And you can donate to support Black trans people through organizations like G.L.I.T.S., The Okra Project, The Trans Justice Funding Project. (You can find a lot more grassroots organizations here.)
---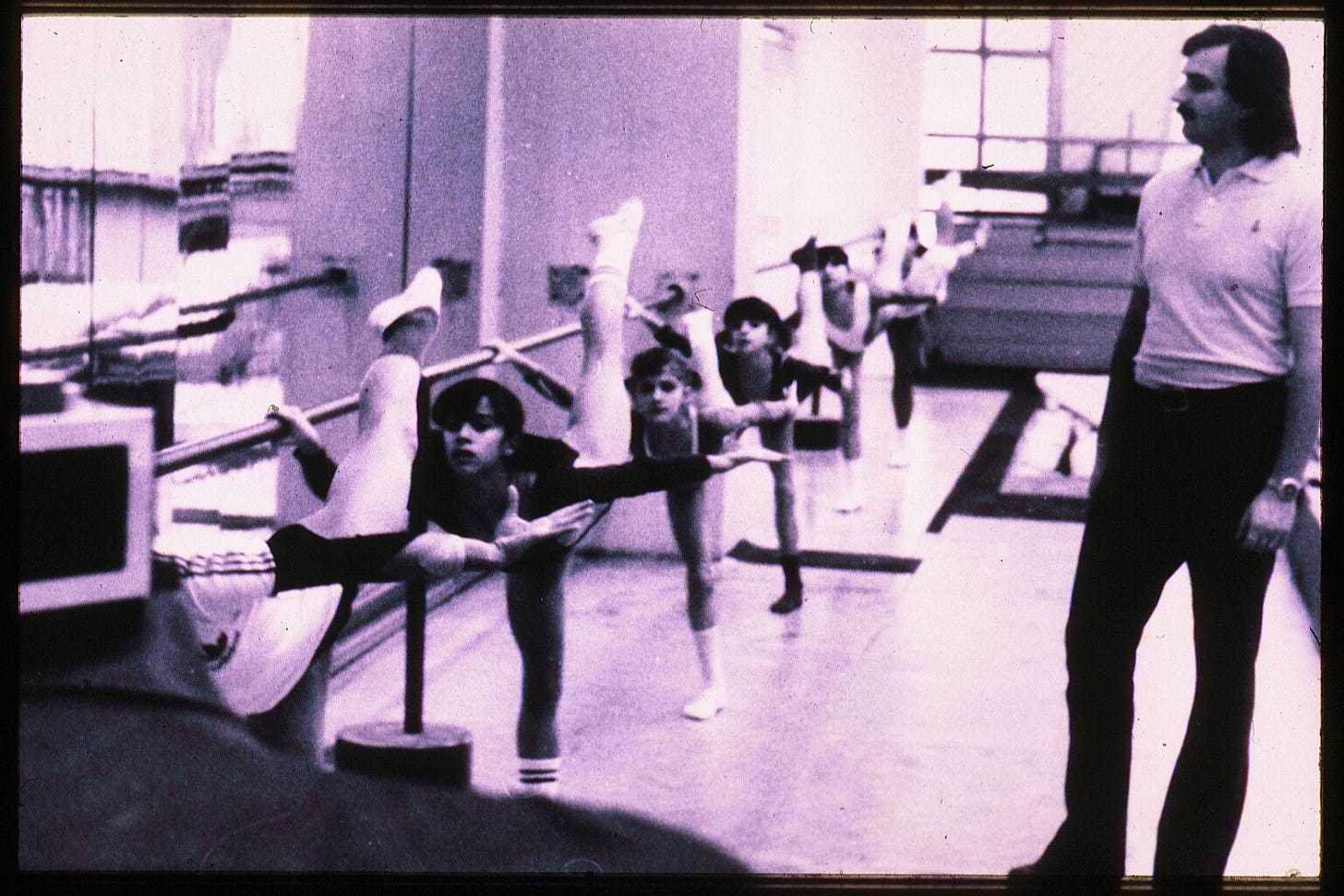 Now to gymnastics.
To recap: In the first part of this series, I spoke to Carol Stabisevschi, the former pianist for the Romanian and U.S. national teams, about the "piano" era of the sport back when and gymnast and pianist formed a team out on the floor. The last time live piano was used for optional exercises was in 1978; the final time a pianist sat matside and played for a gymnast in Olympic competition was 1988 for the compulsory floor exercises.
But there was another part of the floor exercise equation that we have yet to speak about—the choreographer. This newsletter will focus on the career of Geza Pozsar, the Romanian choreographer who defected to the U.S. with Martha and Bela Karolyi in 1981. Pozsar has worked with some of the most famous gymnasts in the sport, including Dominique Moceanu, Kim Zmeskal, and, of course, Nadia Comaneci.
One of Pozsar's other significant working relationships was with Stabisevschi. In the last newsletter, Stabisevschi referred to Pozsar as his "brother" in the work of creating floor routines for gymnasts in the 1970s. Pozsar referred to their "teamwork" during this period.
When Pozsar's name appears in news articles, it's usually in connection to relationship with the Karolyis; his professional history in the sport is deeply intertwined with theirs. He choreographed routines for their biggest stars, both in Romania and the U.S. But Pozsar has also been vocal in the media about the brutality he witnessed while working with their athletes. In 2008, more than ten years before we learned about Larry Nassar's decades of predation and sexual abuse of gymnasts, which forced a real reckoning of abuse in the sport, Poszar spoke up in support of former Romanian gymnasts who came forward and said that the Karolyis physically abused them and withheld food from the girls. (Pozsar later said that he and his wife would sneak chocolate and other food items to the gymnasts.) And after the first allegations against Nassar became public, Pozsar, while saying that he wasn't aware of Nassar's sexual abuse of gymnasts, did corroborate gymnasts' accounts of the cruel treatment they experienced.
But Pozsar's life and career doesn't start with the Karolyis, though he did happen to come from Cluj, the same city that Bela is from. The two didn't know each other when they were young, but both were part of the Hungarian ethnic minority in Romania, which had historically been discriminated against.
(Another notable Romanian gymnastics figure who is also part of that Hungarian minority is Ecaterina Szabo, the gymnast who won four gold medals at the 1984 Olympics in Los Angeles and finished second behind Mary Lou Retton in the all-around. Except that her first name at birth wasn't Ecaterina but Katalin; the government changed it in order to make her sound more Romanian. This happened when she was 12 years old and competing at the 1980 European Championships in Lyon, France. "This was the place where I arrived as Katalin and left as Ecaterina," she told Transylvania Now. Kati, her nickname, remained the same.)
Pozsar told me that he started out as a serious dancer, graduating from dance academy and then performing with a company until he was drafted into the army for his mandatory military service. While serving, he was pulled into the army theater. Pozsar described what he did there as similar to what Bob Hope and other performers did with the USO, performing for the troops.
Their stage was improvised out of flatbed trucks. "They put together six, back-to-back, and they covered it with a thin carpet. And that was our stage," Pozsar told me. This is where he injured his knee, which ended his performing career and put him on a new path as a choreographer.
Pozsar, however, didn't start with gymnastics floor routines. He began working in a traditional dance studio. Things were going well until he ruffled the feathers of the local authorities with one of his pieces. He put together a short piece for International Women's Day to Charles Gounod's "Ave Maria."
"In the background, I projected an enlarged photograph of Michelangelo's Pieta," Pozsar said. His choreography, Pozsar said, was not well received by local party and government leaders when it was presented at the official celebration. "They said that I am a decadent, westernized son-of-a-bitch," he recalled. "As a consequence, I was fired."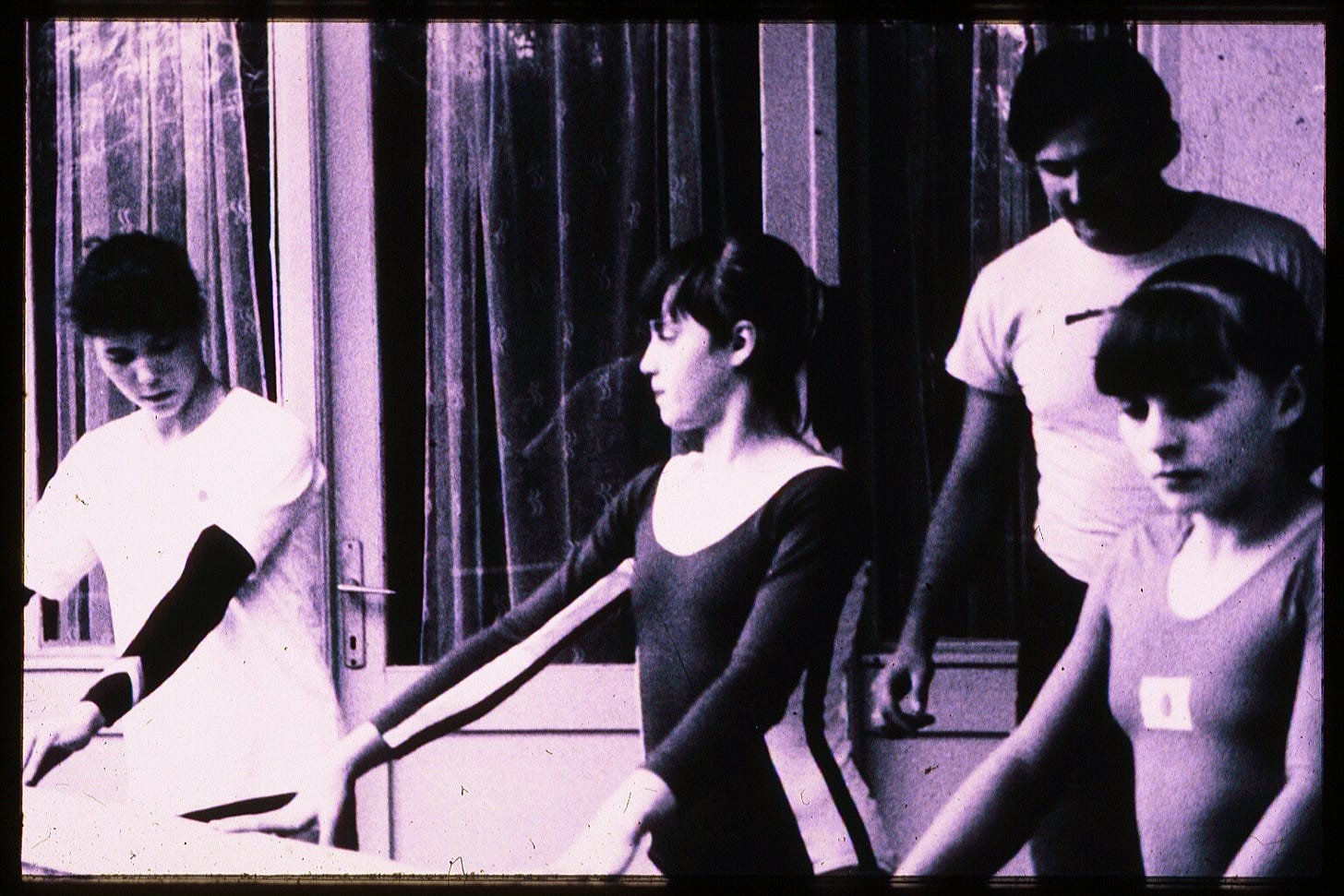 (Photo caption: Pozsar working with Nadia Comaneci and Teodora Ungureanu.)
It's around this time that the gymnastics part of Pozsar's story begins. He met a gymnastics coach who was working with some junior gymnasts, but didn't have a female coach helping him. (It was—and still is—pretty typical to see male/female coaching duos in gymnastics. Usually, the male coach is charged with teaching the acrobatic elements and the woman is responsible for balance beam and floor exercise dance.) Pozsar stepped in and worked with the gymnasts on their dance skills. He was then approached by someone in the Romanian Gymnastics Federation to go to Bucharest to work with the national team that was preparing for the 1974 World Championships in Varna, Bulgaria. This was when he first met Stabisevschi, who was already playing piano for the national team.
It was at these worlds that Pozsar got to see the dance and choreography from other countries. Though he was impressed with the classical style of the Soviets, it was the Americans' choreography that stood out to him in Varna. "The Americans had very, very original choreographies," he recalled.
"There was a girl...her name is Dunbar and she did a floor routine, a very fun routine. You know, fun music, had lots of very interesting moves. Totally different from the Soviets," Pozsar recalled. "I loved it. I just loved it."
The gymnast that Pozsar spoke of is Diane Dunbar. I couldn't find her floor routine from the 1974 worlds—if you know of a place to find it, do let me know in the comments—but here's her partial routine from a 1976 dual meet between the U.S. and China.
And then Pozsar thought he was done with his work for the national team. Most of the gymnasts from the 1974 Romanian squad moved on from the sport after that competition. And Pozsar did what many creatives do when they can't find work—he applied to law school and was accepted.
(I found this part very relatable. I actually registered for the LSAT. I did two practice tests and then decided logic puzzles and law school weren't for me so I picked up and moved to Los Angeles instead. I wonder if I can get my registration fee back.)
But gymnastics wasn't done with Pozsar. Right around the time he was admitted, he was contacted by the Romanian Gymnastics Federation again. This time, they wanted him to go to a small city called Onesti to help the junior national team. He agreed and did his law education via correspondence. When he defected to the United States in 1981, he was just shy of completing his degree.
The reason that Pozsar was called to Onesti to work with the junior national team and the Karolyis was because they had just lost their choreographer. "She was a pretty talented girl but she had a bad time getting along with Martha," Pozsar said. "I don't blame her. You know, she wasn't the only one."
(Ed. note: Oh, we know.)
But Pozsar's working relationship with the Karolyis was a lot smoother, in part because all three were part of the same Hungarian ethnic minority. This timeframe was also when Pozsar resumed his collaboration with Stabisevschi, with whom he worked before during preparations for '74 worlds. But this time, the partnership deepened between the choreographer and the pianist.
When Stabisevschi traveled to Onesti, he shared a room with Pozsar. They collaborated on the floor routines and also on the daily dance class. Stabisevschi would play the piano and Pozsar would teach the gymnasts at the bar.
In the winter, the team went to train at high altitude, and Pozsar and Stabisevschi went with them. Pozsar called it a "vacation," but I hesitate to use that word cause it seemed like they were still doing some training if the intensity level had been reduced. "We didn't do too much acrobatics," he said about those periods.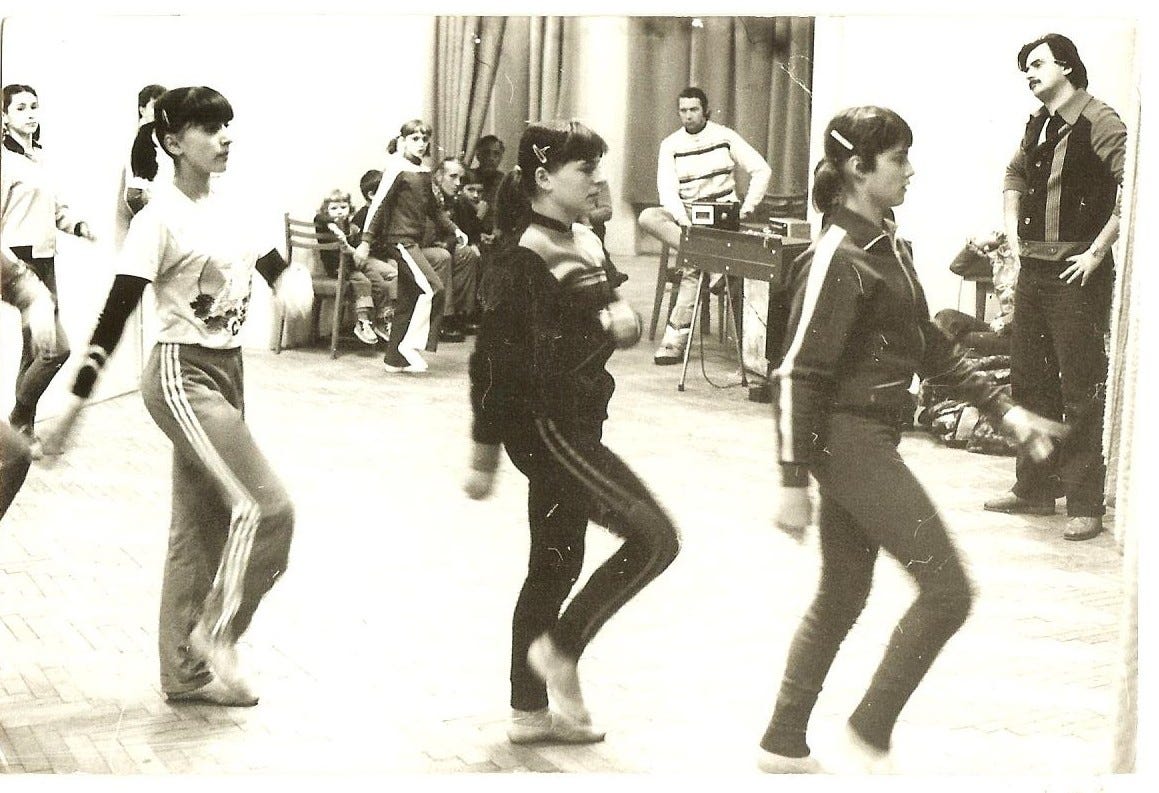 At these mountain retreats, Pozsar and Stabisevschi let the girls relax. Pozsar made up fun routines to popular songs. "At [that] time that song Paloma Blanca was popular," he recalled and then broke into song over the phone. (He broke into song several times during our hour long conversation. Pozsar has a lovely singing voice.) "I made them a routine to that song."
The gymnasts would play around, make up their own movements. He told them to move how they would at home when they were listening to the radio. In fact, it was during one of these freestyle sessions at the retreat where Comaneci helped come up with some of the iconic choreography used at the end of her 1975 and 1976 floor routines.
"The part when she's taking the last steps and the worm with her right arm was 'invented' at the high altitude training camp in a hotel reception room," Pozsar wrote to me in an email.
"The ending pose with her left arm and hand came later when we composed the routine and tried different ending poses," he continued. "Nadia was playing with some poses, trying to match the worm movements and suddenly she lifted her left arm straight in front of her and dropped her left hand. Everybody who was present screamed, 'That's it! That's the end.'"
Pozsar said that figuring out the music for the gymnasts' floor routines was a collaborative process between him and Stabisevschi.
"Carol was very good [at being] able to figure out what kind of music [works] for different girls." We saw that in the piece that he composed for Kathy Johnson Clarke in 1978; the music suited her perfectly.
"What was also good about the piano [was] that we could easily make changes," Pozsar said. With recorded music, it was much more difficult to make a small change. And sometimes it might be late into the process when they realized that the music wasn't perfectly suited to the athlete. "[If] some of it didn't work well or didn't look good enough, we had the possibility to make a change."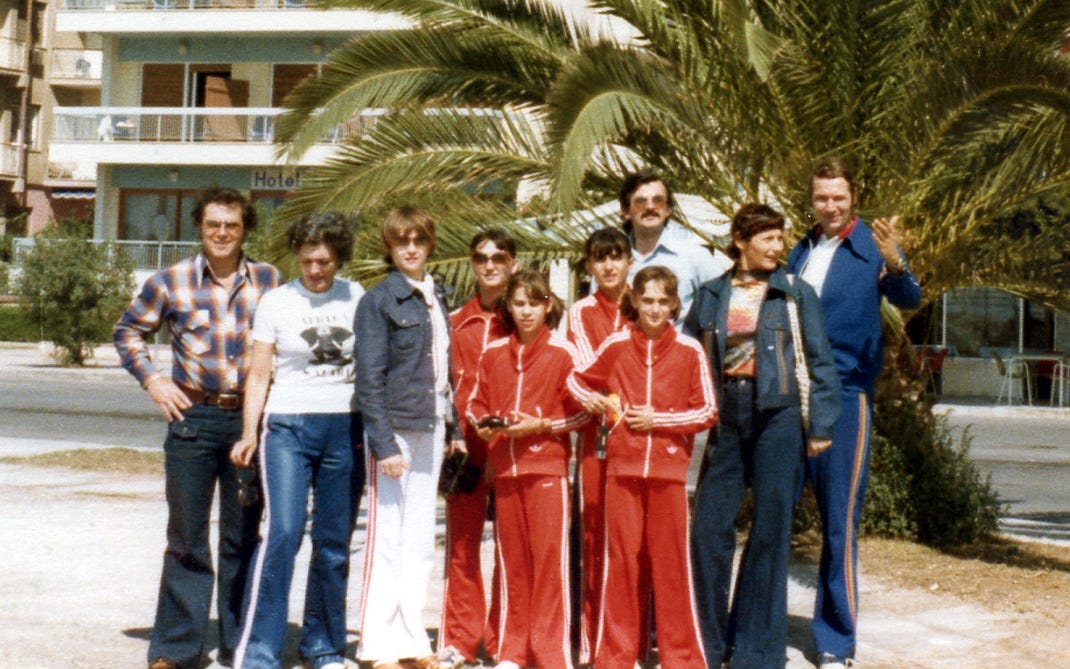 (The photo taken in Greece was the last photo taken with Stabisevschi before his defection to the U.S. in 1977; Stabisevschi is the first from the left. Pozsar is third from the right, next to Martha and Bela Karolyi.)
Given how warmly Pozsar spoke of piano and his collaboration with Stabisevschi, I expected him to tell me he was really upset when the move to recorded music for optional exercises was announced. But he was actually relieved. In 1977, Stabisevschi defected to the U.S. and his replacement wasn't up to snuff. "We got a new piano player who was terrible," Pozsar recalled. "Bela could play the piano better," he said with a laugh. They called the new pianist "Skeleton."
"He was playing the piano like a skeleton. No soft notes, he goes, bang, bang."
This really underscores that not just anyone could do the work Stabisevschi did. And with him gone, not only did Pozsar lose a skilled pianist, but also an important collaborative partner in his work. So when recorded music became the norm for optional exercises, Pozsar was happy. They still composed and choreographed the routines with the aid of the piano. But then Pozsar took the music to Bucharest where a live orchestra played it and it was recorded for competition. The fact that this resource was made available to them had to do with the star wattage of Nadia, who was still competing.
Now, it wasn't a full symphony or anything like that. Nothing like what John Williams has to record a Steven Spielberg movie score. Pozsar likened it to the Glenn Miller Orchestra, the kind you'd have in a TV studio for a taping. "Orchestra for pop songs...because we are using mostly very popular songs that were on the market at this time, to be catchy for the public or folk songs that they [the audience] can applaud to," he said. "He [Bela] wanted everybody, for the public to come in. That was Bela's thing."
Pozsar was present throughout the recording sessions. "I was sitting by the conductor, giving the breaks for tumbling [passes] and stuff like that," Pozsar recalled. "It was very interesting but it sounded like a studio...It wasn't exactly [like] the original."
One of the pieces he had recorded was the music that Stabisevschi played for Teodora Ungureanu in 1976. If you recall from Part 1, she performed to a Romanian folk song called "Sanie cu Zurgalai." (Of the routines Pozsar choreographed in 1976 for the Romanian team, hers is my favorite.)
The piece was recorded for Emilia Eberle, who now is known as Trudi Kollar. Kollar spoke out against the Karolyis about the abuse that she and the other Romanian gymnasts experienced with Pozsar publicly backing her. Kollar worked in Pozsar's Sacramento gym for several years after she moved to the U.S.
But it wasn't just that Eberle used the same music as Ungureanu; she also used much of the same choreography in the routine. (I guess we now know where Miss Val and UCLA got the idea for "legacy routines" i.e. having gymnasts recycle the music and choreography of past Bruins.)
Eberle won the gold medal on floor exercise at the 1979 world championships. She would still be using that same routine two years later. But by that time, Pozsar and the Karolyis had defected to the U.S.
---
In the U.S., Pozsar settled in Northern California, eventually opening a small gym. In the 1995 book Little Girls in Pretty Boxes, Joan Ryan spoke of how Pozsar, unlike the Karolyis, was more focused on helping gymnasts get scholarships for college than getting them onto the Olympic team. Still, he continued to collaborate with the Karolyis, flying down to Texas to do choreography for their gymnasts. He said that one of his favorite routines he choreographed in the recorded music era was Kim Zmeskal's 1991 floor. This was the routine that sealed her all-around win at the world championships that year, making her the first American woman to win the world all-around title.
Pozsar said that the Karolyis had a ballet/dance instructor working with Zmeskal and that they were trying to figure out what her floor music for the season should be. Neither Pozsar nor Zmeskal liked the music that was being suggested. Pozsar had brought with him a cut of "Hooked on Swing" and played it for her and she liked it. "We did the routine in one and a half hours, it was done," he recalled.
And this was the result, one of the most famous U.S. floor exercise routines.
Back in 2014, I interviewed Zmeskal (now Zmeskal-Burdette) at her gym, Texas Dreams, outside of Dallas. We were sitting in the parent viewing area, pretty close to the floor exercise mats, when the opening notes of "Hooked on Swing" started playing. We both looked at each other and then laughed. Clearly this music reminded her of one of her happiest competitive memories. (In fact, she included a few seconds from the song in one of her former elite's floor routines.)
By 1991, when Zmeskal made U.S. gymnastics history with her floor routine, Pozsar's and Stabisevschi's musical and choreographic collaboration had ended. "The last time that we worked together was in 1988 for Seoul, Korea," he said. 1988 was the last year that piano was used for the compulsory exercises.
"We were always able to improve the routine, more and more, not only the choreography but also the music parts," Pozsar said of working with the pianist. "I miss that time."
All photos courtesy of Geza Pozsar.
---
If you have already donated to help support and sustain Black lives in the U.S., and you also want to support this newsletter, I wouldn't say no to that.